This is a new post  for us. We're trying out video and word blog posts. So in this post, we will be including our newest video which is titled….How to Iron a Shirt. The purpose of the post to create a mini-web series of "How To" videos to help out those who are struggling with various tasks. We'll be covering a wide range of daily activities that either you or a maid service would be helping you out with.
How to Iron – Getting Started
So there are few things you will need to get started. They are…the shirt or clothing item you want to iron, a working iron, an ironing board, and a small spray bottle.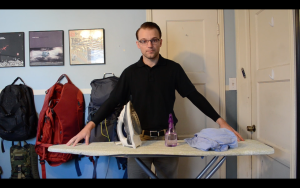 You can get by without the spray bottle, but they're relatively cheap (I purchased mine for $2.99 from Ace Hardware). So once you have everything you need (picture posted for clarity), we ready to move onto the next step.
So now that we have everything laid out, we can turn on the iron. For our specific iron, to turn the iron on, we plug it into the wall and then there is a twist knob in the middle of the iron (pictured here). There is a light that will light up signifying that the iron has been turned on. The iron will take a few minutes to warm up, so let's move onto to laying out the the shirt and getting everything else ready.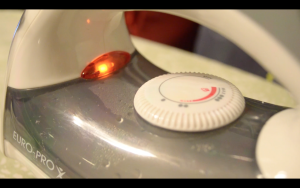 How to Iron – Laying out the goods…
Alright, so you're waiting on your iron to heat up. During this time you can lay out the piece of piece of clothing you want to iron. The top of the ironing board has a curved nose to help with the shoulders of shirts. Now that everything is ready, time to start ironing!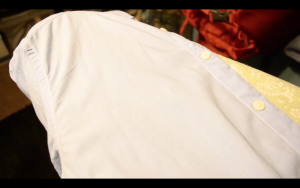 How to Iron – The Sleeves…
Now that we ironed both sides of the shirt, we can move onto the sleeves. I personally dislike ironing sleeves because they can be a pain in the butt. But it has to be done so we'll iron them! There is small seem on the bottom of the sleeve that should be evened out and this will help make ironing that much easier.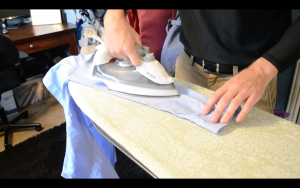 How to Iron – The backside
Now that you've finished the front and the sleeves, you can finish things off with the back of the shirt. Now, ironing the back of the shirt is necessary even though it will get wrinkled throughout the day. Once you finish ironing the back of the shirt, it's ready to be put on or head into your closet to be used for another day! And that's all there is to it.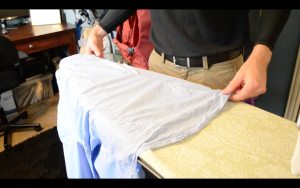 On May 8, 2015 Lincoln Maids cleaning company of Los Angeles and Orange County came into existence. Founded by Business Finance graduate of California State University, Long Beach and U.S. Navy veteran, Deni Volkoff.
What you will find that makes our home cleaning services unique is how we treat our clients. We treat every opportunity that we engage in conversation with you as a chance to build a long lasting relationship for the both of us.
We also value your time. That is why we will always strive to deliver 100% of the time with our performance. If you find that we haven't met your clean home standards, simply call or email to inform us how we can fix the problem. This of course is at no extra charge to you.
Each and every one of the housemaids we send to your home goes through an extensive background check as well as a thorough hiring process. This is another level of our promise to deliver the best cleaning service in your home.
Some of the services we offer are window cleaning, spring-cleaning, move-in and move-out cleaning, laundry service, oven cleaning, green cleaning products, cleaning tips, and housekeeping services. We offer discounts for recurring cleanings such as monthly, bi-weekly, and weekly cleanings as well as one-time cleanings. Having an event or party? We'll clean that as well!
About the Founder: Deni Volkoff was raised in Huntington Beach, CA and currently resides in Long Beach, CA. After graduating high school, he enlisted into the Navy and served for the next 5 years working out of two different Navy bases. At the end of his tour of duty, he was honorably discharged and began his college education. During his last semester at CSULB, he began looking for a direction to take his life. And thus, Lincoln Maids was born.